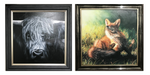 While the start of the year may seem a lot quieter on the high street, behind the scenes in the gallery it's a very different story. Over the last few weeks our shop owner, Nat, and manager, Pip have been busy hunting out new pieces for you all to discover next time you visit us here in Falmouth, and we are thrilled to announce some stunning new additions to the wildlife collection of Bree Merryn.
We became a stockist of Bree Merryn's beautiful wildlife prints back in 2017 when, 'Hugh' and 'Harriet', two of her lovely hares joined us. They were an absolute hit, and are still bringing smiles to all that see them, as we continue to stock them as 40 x 40 cm mounted prints. Last season we added to the Bree collection with a wider selection of mounted prints and the increasingly popular, 'Canvas Cuties', mini canvases that make a perfect gift or holiday keepsake.
This season we are thrilled to introduce a truly stunning framed collection including the magnificent, 'Hamish', delightful 'Finn',  handsome 'Sutherland' and absolutely adorable field mice enjoying 'High Tea'.
* 'Hamish', framed in Charcoal & 'Finn', framed in Black
* 'Sutherland' & 'High Tea', framed in Dark Wood
We've also added more designs to the 'Canvas Cutie', collection, a tryptich and a further three more framed prints including the popular dancing puffin, 'Presley'.
* 'Presley', is available as a 40 x 40 CM mounted print or framed in a dark wood frame.
Unfortunately we are unable to offer direct delivery on any of Bree's collection at the moment, so please do pop in and see us at the gallery in Falmouth when you next visit. If you would like any further information on this collection or any of the pieces in the gallery, please do give us a call on 01326 210036, we will be more than happy to help.